Saturday, June 7th, 2014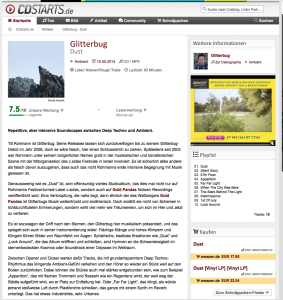 Lovely review published in CDstarts. Thanks for the nice words and the incredible rating! You can find the original article here.
**********
Repetitive, aber intensive Soundscapes zwischen Deep Techno und Ambient.
Till Rohmann ist Glitterbug. Seine Releases lassen sich zurückverfolgen bis zu seinem Glitterbug-Debüt im Jahr 2008, doch es wäre falsch, hier einen Schlussstrich zu ziehen. Spätestens seit 2003 war Rohmann unter seinem bürgerlichen Namen groß in der musikalischen und künstlerischen Szene mit der Mitorganisation des c.sides Festivals in Israel involviert. Es ist sicherlich alles andere als falsch davon auszugehen, dass auch das nicht Rohmanns erste intensive Begegnung mit Musik gewesen ist.
Genausowenig wie es "Dust" ist, sein offenkundig viertes Studioalbum, das dies mal nicht nur auf Rohmanns Festival-turned-Label c.sides, sondern auch auf Gold Pandas Notown Recordings veröffentlicht wird. Eine Verknüpfung, die nahe liegt, denn ähnlich der des Weltbürgers Gold Pandas ist Glitterbugs Musik weltentrückt und erzählerisch. Doch erzählt sie nicht von Schemen in lichtdurchfluteten Erinnerungen, sondern wirkt viel mehr wie Träumereien, um sich im Hier und Jetzt zu verlieren.
Es ist sozusagen der Griff nach den Sternen, den Glitterbug hier musikalisch präsentiert, und das spiegelt sich auch in seiner Instrumentierung wider. Flächige Klänge und hohes Klimpern und Klingeln führen Bilder von Raumfahrt vor Augen. Sphärische, beatlose Kreationen wie "Dust" und "Look Around", die das Album eröffnen und schließen, sind Hymnen an die Schwerelosigkeit im sternenbedeckten Kosmos oder Soundtrack einer Odyssee im Weltraum.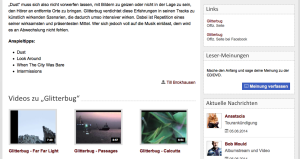 Zwischen Opener und Closer warten dafür Tracks, die mit grundentspanntem Deep Techno-Rhythmus das klingende Ambient-Gefühl verleihen und den Hörer so wieder ein Stück weit auf den Boden zurückholen. Dabei können die Stücke auch mal stärker erdgebunden sein, wie zum Beispiel "Apparition", das mit flachen Trommeln und Rasseln wie ein Regentanz wirkt, der weit weg der Städte aufgeführt wird, wo er Platz zur Entfaltung hat. Oder "Far Far Light", das klingt, als würde jemand stoßweise Luft durch Plastikrohre schießen, das ganze mit einem Synth im Reverb unterlegt. Das hat etwas Industrielles, sehr Urbanes.
"Dust" muss sich also nicht vorwerfen lassen, mit Bildern zu geizen oder nicht in der Lage zu sein, den Hörer an entfernte Orte zu bringen. Glitterbug verdichtet diese Erfahrungen in seinen Tracks zu künstlich wirkenden Szenarien, die dadurch umso intensiver wirken. Dabei ist Repetition eines seiner wirksamsten und präsentesten Mittel. Wer sich jedoch voll auf die Musik einlässt, dem wird es an Abwechslung nicht fehlen. Till Brockhausen