Saturday, June 7th, 2014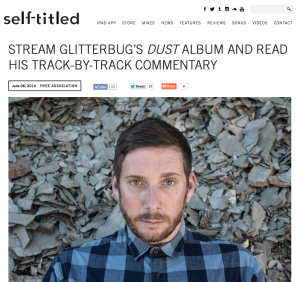 Self-Titled Mag from Brooklyn asked me if I would give them a little run through of my tracks for Dust. And I happily did. You can read the full article here.
***
"I still remember being 16 and first hearing Meredith Monk's Dolmen Music," says Till Rohmann, the Berlin-based producer behind the transcendental techno project Glitterbug. "I started crying because I found music that touched me so deeply and that I felt so connected to."
Gold Panda's Half of Where You Live LP had a similar effect recently, leading Rohmann to join his NOTOWN roster and write Dust (due out next Monday) as a reaction to that record's exploration of "modern urbanity and manmade things."
"Dust takes this notion a step further and explores the urban shadows of the forgotten," explains Rohmann, "the stories of our cities that remain untold, past landscapes that evaporated and memories left behind over time. It's about memories, traces of things and people that were, urban sub texts and long gone landscapes and the life that inhibited these places."
In the following exclusive feature, Rohmann shares a full album stream and the stories behind each song, from the marching orders of his "secret electric band" to the ambient closer that eases us all into a "dark, rotating, condensed abyss"…
"Dust" was one of the very last tracks I made on the album; I needed to have all the other materials ready to know what I wanted the title track to sound like. I wanted to take something from all the other tracks and bring it into one single track that sets the album's mood. It's pretty stark, I think… and in constant movement.
"Silent Glory" is one of the album's most introverted tracks. I built it on thick, layered pads and sparse drum loops. It's a very lonely track that's slowly rising. It feels to me like taking a last glimpse of the decay before departing across the horizon.
If there ever was an ode to solitude atop a skyscraper, "47th Floor" is certainly my version of it! I could almost feel the warmth of the last rays of daylight hitting my face as a city sprawls below me. I had the idea for this track during a tour that brought us to Hong Kong, when we visited friends atop their high rise building. I have a slight fear of heights, and it was a frightening and exciting experience to stand up there and to be able to see so incredibly far (and low).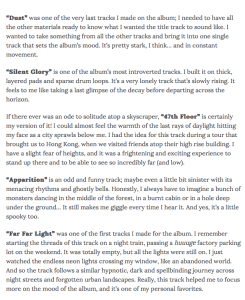 "Apparition" is an odd and funny track; maybe even a little bit sinister with its menacing rhythms and ghostly bells. Honestly, I always have to imagine a bunch of monsters dancing in the middle of the forest, in a burnt cabin or in a hole deep under the ground… It still makes me giggle every time I hear it. And yes, it's a little spooky too.
"Far Far Light" was one of the first tracks I made for the album. I remember starting the threads of this track on a night train, passing a huuuge factory parking lot on the weekend. It was totally empty, but all the lights were still on. I just watched the endless neon lights crossing my window, like an abandoned world. And so the track follows a similar hypnotic, dark and spellbinding journey across night streets and forgotten urban landscapes. Really, this track helped me to focus more on the mood of the album, and it's one of my personal favorites.
"When The City Was Bare" wasn't supposed to be on this album originally; I made it for a split EP with a NYC based artist that sadly never saw the day of light. It has a lot of my very personal NYC mood in it—specifically at night, with big empty streets and buildings that peer from the shadows. In the end, the album was somehow the perfect fit for it.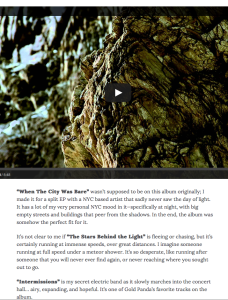 It's not clear to me if "The Stars Behind the Light" is fleeing or chasing, but it's certainly running at immense speeds, over great distances. I imagine someone running at full speed under a meteor shower. It's so desperate, like running after someone that you will never ever find again, or never reaching where you sought out to go.
"Intermissions" is my secret electric band as it slowly marches into the concert hall… airy, expanding, and hopeful. It's one of Gold Panda's favorite tracks on the album.
"1st of July" is a sunrise techno hymn that slowly builds into raving arpeggios and smothered high hats, and it's definitely the album's most pressing dance track. Originally, it wasn't supposed to be on the album, but Gold Panda liked it so much that we put it on there. Mood-wise, it sticks out a little, but I grew to like that a lot and, it's soooo much fun to perform it live!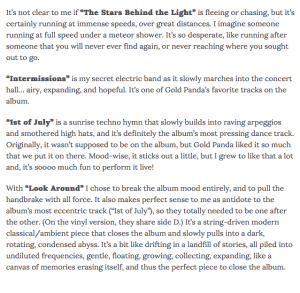 With "Look Around" I chose to break the album mood entirely, and to pull the handbrake with all force. It also makes perfect sense to me as antidote to the album's most eccentric track ("1st of July"), so they totally needed to be one after the other. (On the vinyl version, they share side D.) It's a string-driven modern classical/ambient piece that closes the album and slowly pulls into a dark, rotating, condensed abyss. It's a bit like drifting in a landfill of stories, all piled into undiluted frequencies, gentle, floating, growing, collecting, expanding, like a canvas of memories erasing itself, and thus the perfect piece to close the album.