Saturday, June 27th, 2009
As some of you might know, i am at the Dancity Festival in Foligno/ Italy. The first thing i noticed when i came in was that the Italians obviously used a picture of our beloved cat Pnina for some strange name tagging on kittens campaign in the airport:
Is it something about nameless cats not accepting borders? I have to work on my Italian i guess.
I am trying really hard to oppress the memory of the 2 hour car ride from the airport in Rome to Foligno… the scenery was (or better: would have been) breathtaking, sadly our driver had this strange desire to exceed the speed limits by at least 100 km/h. I was in the same car with some of the other artists that i would later on play with, the amazing Juju & Jordash and legendary Move D, and it was quite a bonding experience for all of us. Scared for life as Tracy Moffat would say…
But once we arrived, we met such wonderful and amazing and dedicated people that made us forget the car ride immediately. Thank you all in the Dancity organization for making this such a great festival experience for all of us!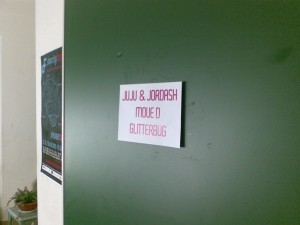 Sadly, it was raining all day and evening, so the outdoors stage where us three were supposed to perform at was closed, and we had to move the performance to the indoors. And if that would have not been enough, Italians have no clue how to deal with rain in the summer, so there were less people in the audience as anticipated by the organizers. Such a pity, such a great line up! I hope that everybody that did not show up last night is banging their heads against the wall. Tonight is going to be amazing too, so i hope the crowd will come and that the weather will be a little nicer today. Look: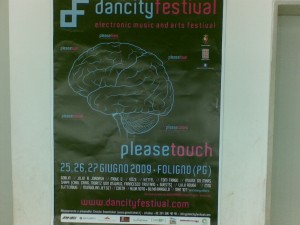 As always, i did not take many pictures of the venue or performances, i guess we were all pretty stressed about moving our equipment all the time… here is our poor little stage that drowned in the evil rain: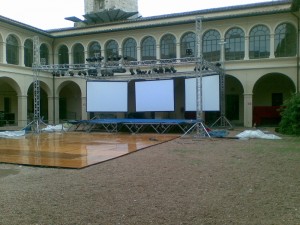 and the inside stage for the seated performances: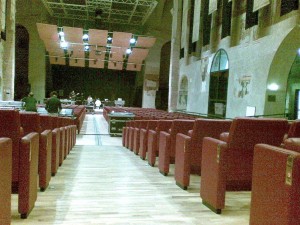 But this was our hotel garden: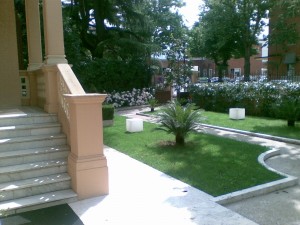 and the scenic view from my roof top balcony (which even has a private Jahcoozi…):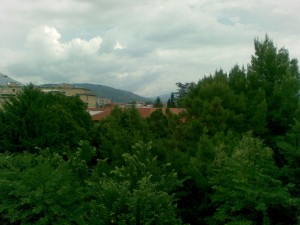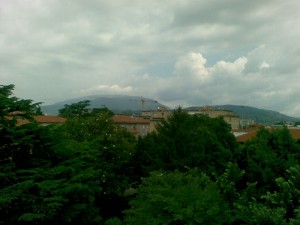 While walking through this nice little town, we found a huge "Hello Kitty" store- and i totally need those suitcases: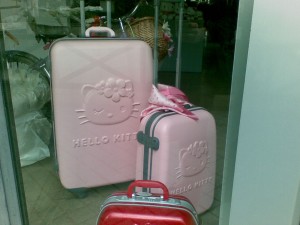 Here is an example for a very special snack bar: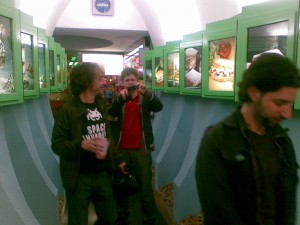 Activities took place all over the city, sometimes using locals as awkward decoration: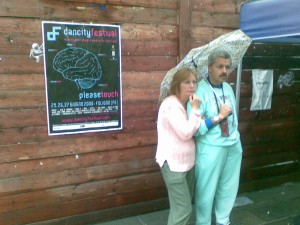 and yes, we also had a lot of coffee: