Friday, December 25th, 2009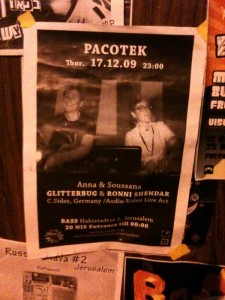 Glitterbug-Live at 'The Bass', Jerusalem, December 2009 by Glitterbug
I decided to upload this specific live set because it kinda marks the end of an era- no, I will NOT disappear from the surface of the planet, but this was the (almost) last time I performed this specific evolution of my live set. As always, this set is recorded via stereo out from my sub mixer into a Tascam recorder, no post editing/ processing was done.
My live set has been going through many changes over the past year (both as far as content and also as far as my setup goes), and there are many new tracks in there that are currently unreleased (and allow for a tiny glimpse at my next album). The next step will be to focus on the materials of my next album and to build the performance on that- from scratch. Fun!
The two shows we had in Israel were the last in the current performance tour, and the performance at the bass the last "official" one- we also played a very small intimate show mostly for friends in Tel Aviv the night after, but I did not record.
It's been an incredible year for me (and us, meaning visual artist Ronni Shendar, whom I was fortunate enough to be able to have with me for almost every live performance), with amazing shows and invitations all over the globe. And we really had a blast with our last performance tour, but it's also about time to hibernate a little and to focus on a few other things, like- finalizing my next album, which has been in the work for over a year now, and is scheduled for release in spring.
Usually, I don't make my live sets downloadable, but because we will re-do everything and will start rehearsing on the new show in two weeks, this one goes out to all of you that have been there for and with us over the past year. Have fun with it and- thank you!!!
Also, many many thanks to Pacotek for hosting us that night!