Thursday, March 29th, 2012
You can read the article here.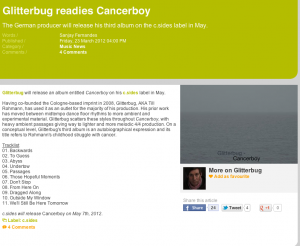 Glitterbug will release an album entitled Cancerboy on his c.sides label in May.
Having co-founded the Cologne-based imprint in 2008, Glitterbug, AKA Till Rohmann, has used it as an outlet for the majority of his production. His prior work has moved between midtempo dance floor rhythms to more ambient and experimental material. Glitterbug scatters these styles throughout Cancerboy, with heavy ambient passages giving way to lighter and more melodic 4/4 production. On a conceptual level, Glitterbug's third album is an autobiographical expression and its title refers to Rohmann's childhood struggle with cancer.