Wednesday, April 24th, 2013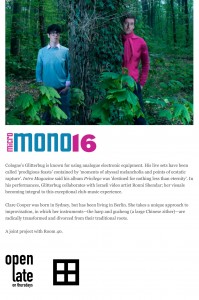 Our last show on our little Australia tour brought us to Brisbane, and has a very special treat in stock: it'll be admission free! We are hosted by the Institute for Modern Art (IMA), and will perform in the microMono Series, presented by our dear friends of Room40.
Our support act hails from Sydney: Clare Cooper will play one of her beautiful improv performances on the harp and the guzheng.
Come early, admission starts at 18:30, music at 19:00, and the address is
Institute of Modern Art
at the Judith Wright Centre of Contemporary Arts
420 Brunswick Street
Fortitude Valley
Brisbane QLD 4006
The event on FB / Resident Advisor