Monday, May 26th, 2014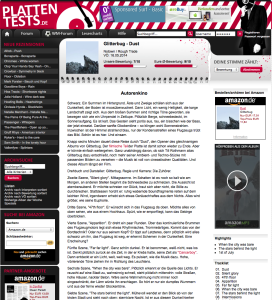 You can find the full article here.
Autorenkino
Schwarz. Ein Summen im Hintergrund. Äste und Zweige schälen sich aus der Dunkelheit, der Boden ist moosüberwuchert. Dann Licht, ein wenig Helligkeit, die karge Landschaft zeigt sich. Aus dem bloßen Summen sind richtige Töne geworden, sie bewegen sich wie ein Uhrpendel in Zeitlupe. Plötzlich Berge, schneebedeckt, im Sonnenaufgang. Es ist kalt. Das Gestein sieht porös aus, rau, ein bisschen wie der Bass, der jetzt einsetzt. Darüber sanfte Glockentöne – so klingen wohl Sonnenstrahlen. Inzwischen ist der Himmel strahlend blau, nur der Kondensstreifen eines Flugzeugs trübt das Bild. Schön ist es hier. Und einsam.
Knapp sechs Minuten dauert diese Reise durch "Dust", den Opener des gleichnamigen Albums von Glitterbug. Der filmische Teilder Platte ist damit schon wieder zu Ende. Aber er könnte einfach weitergehen. Ganz unabhängig davon, ob sich Till Rothmann alias Glitterbug dazu entschließt, noch mehr seiner Ambient- und Techno-Stücke mit passenden Bildern zu versehen – die Musik ist voll von cineastischen Qualitäten. Und dieses Album längst ein Film.
Drehbuch und Darsteller: Glitterbug. Regie und Kamera: Die Zuhörer.
Zweite Szene, "Silent glory". Mittagssonne. Im Schatten ist es noch so kalt wie am Morgen, an anderen Stellen beginnt die Schneedecke zu schmelzen. Die Aussicht ist atemberaubend. Er möchte schreien vor Glück, traut sich aber nicht, die Stille zu durchbrechen. Stattdessen horcht er: ruhig wabernde Soundfragmente reiten auf dem leichten Wind, irgendwann erhebt sich etwas Geräuschhaftes aus dem Nichts. Alles wird größer, wie seine Euphorie.
Dritte Szene, "47th floor". Er wünscht sich in das Flugzeug da oben. Möchte alles von oben sehen, wie aus einem Hochhaus. Spürt, wie er emporfliegt, kann das Gebirge überblicken.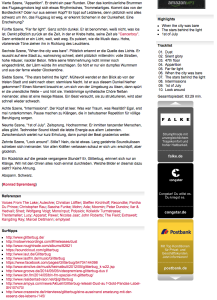 Vierte Szene, "Apparition". Er dreht ein paar Runden. Über das kontinuierliche Brummen des Flugzeugmotors legt sich etwas Rhythmisches, Trommelartiges. Kommt das von der Bordtechnik? Oder nur aus seinem Kopf? Er tippt auf Letzteres, denn plötzlich wird alles schwarz um ihn, das Flugzeug ist weg, er erkennt Schemen in der Dunkelheit. Eine Erscheinung?
Fünfte Szene, "Far far light". Ganz schön dunkel. Er ist benommen, weiß nicht, was los ist. Denkt plötzlich zurück an die Zeit, in der er Krebs hatte, seine Zeit als "Cancerboy". Dann entdeckt er ein Licht, weit, weit weg. Es pulsiert, wie die Musik dazu. Hohe, vibrierende Töne ziehen ihn in Richtung des Leuchtens.
Sechste Szene, "When the city was bare". Plötzlich erkennt er die Quelle des Lichts. Er rauscht auf eine Stadt zu, wahnsinnig schnell, steht plötzlich mittendrin: volle Straßen, hohe Häuser, nackter Beton. Wäre seine Wahrnehmung nicht immer noch eingeschränkt, der Lärm würde ihn erschlagen. So hört er nur ein dumpfes Wummern und aus der ferne wieder Glockentöne.
Siebte Szene, "The stars behind the light". Mühevoll wendet er den Blick ab von der tristen Stadt und sieht nach oben: sternklare Nacht. Ist er aus diesem Dunkel hierher gekommen? Einen Moment braucht er, um sich von der Umgebung zu lösen, dann spürt er die unendliche Weite – und hört sie. Vielstimmige synthetische Chöre fließen ineinander, alles ist eine riesige Masse. Ein Beat versucht, sie zu strukturieren, wird aber schnell wieder schwach.
Achte Szene, "Intermissions". Der Kopf ist leer. Was war Traum, was Realität? Egal, erst mal runterkommen. Pause machen zu Klängen, die in behutsamer Repetition für völlige Beruhigung sorgen.
Neunte Szene, "1st of July". Zeitsprung, Hochsommer. Er inmitten tanzender Menschen, alles glüht. Technoider Sound kitzelt die letzte Energie aus allem Lebenden. Zwischendurch wartet nur kurz Erholung, dann pumpt der Beat gnadenlos weiter.
Zehnte Szene, "Look around". Stille? Nein, da ist etwas. Lang gedehnte Soundkulissen schieben sich ineinander. Von allen Kräften verlassen schaut er sich um: erschöpft, aber glücklich.
Ein Rückblick auf die gerade vergangene Stunde? Er, Glitterbug, erinnert sich nur an Klänge. Will mit den Ohren alles noch einmal durchleben. Welche Bilder er diesmal dazu sieht? Keine Ahnung.
Abspann. Schwarz.