Last day in Poland
It's been awfully quiet around here. That was due to the fact that upon our return from Poland, on the 24th of November, at the end of our six weeks of continuous touring, i got pretty darn sick and after recovery (which took me more than a week), I had so much stuff to deal with, like finalizing my next album (more about that very very soon!), that I barely had the time to take care for my precious little blog. But here i am again. Sorry for the two week delay!!
Here is a little audio impression of our train ride from Torun to Gdansk, from where our flight back to Cologne left:
We rode in this super old, very very slow train that even had the old 6-seat compartments that one barely meets anymore around western Europe.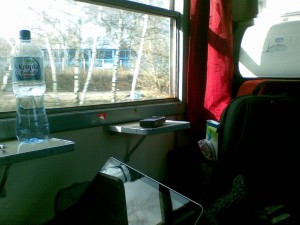 And here is a glimpse to the other side: