Murmur & The Sound of the Sea
Since we arrived here in Israel on last Sunday, we have been driving around, seeing people, have been in meetings and drove back and forth between Jerusalem and Tel Aviv and back.
One of my main occupations these days is to listen to my next album over and over again and to decide on the track order, which is actually quite a task considering that 'Privilege', my next album, will be a double CD with 2,5 hours of music and 20 new tracks… and of course it's a very emotional place to be in, considering that a project, that took me more than a year to finish, is slowly coming to an end- I have a bit more than a week to finalize everything and to hand the materials over to the mastering studio. Phew. I am so horribly nervous.
***
But well… yesterday, we went to the sea side in Tel Aviv, and the sound of the waves and the permanent background hum of the sea is something very pampering and calming to me. Especially with the waves moving the stones up and down, creating this very special clack-clack-clack of stones on stones.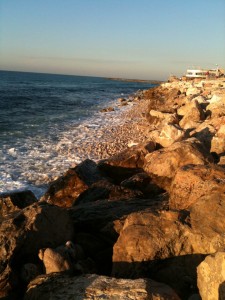 And this is what this place sounded like…
***

The murmur of people can have a similar effect on me. We went to see a dance performance in Jerusalem, and here is a bit of ambience from the slowly filling theater hall.
***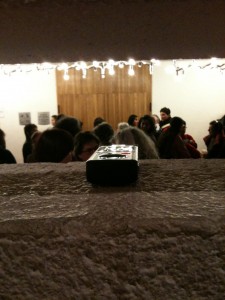 This little bit was recorded in front of the theater hall, during the intermission.