Coming up next: Live @ Trouw, Amsterdam, 6th of February 2010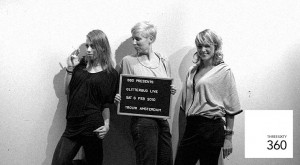 We are so happy and excited to announce our gig at the legendary Trouw club, on February 6th, 2010.
We are playing with the fabulous 360 Dj team, consisting of the fantastic Patrice Bäumel and legendary Nuno dos Santos, two of the amazing Dutchies we were fortunate enough to meet in the past few months.
Also, many many thanks to wonderful Esther aka Estroe holding up the sign in the picture, and to the two bystanders, Johanna Mercker and Eva Maria! The picture was taken at the Trouw after the three's gig in early January.