A few updates…
Amidst the possibly most stressful period prior to the release of 'Privilege' in four weeks, i thought to share a few updates.
I have been awfully busy with remixing, and, even more importantly, mixing endless podcasts for some of the large platforms out there. Watch out for some nice surprises… mixing the podcasts was an especially wonderful thing, since I have been mostly listening to 'Privilege' while finalizing the album, and to endless rehearsals for the new show that we'll start touring with in May. So going through endless promos and fishing for exciting new music was an amazing treat after all that Glitterbug music…

In the meanwhile, the vinyl edition of 'Privilege' came in: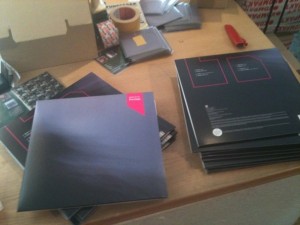 It's a hand numbered, strictly limited (to 500 copies) double vinyl. No. 1-360 have the beautiful CD booklet as part of the package. The vinyl edition has a bonus track that won't be available digitally or elsewhere, and since we could not fit the whole 20 tracks / 2,5 hrs of music of the CD on vinyl, everybody that purchases the vinyl (and sends us a picture of the hand written number and of the vinyl in a beautiful surrounding of their choice) will receive a download link to the whole CD album.
We have many great shows in the queue for this summer (among them Spot Festival/ Denmark, Off Centre Festival Amsterdam, c/o pop Cologne, MIGZ Festival Moscow, and Oslo Live Festival), so make sure to check the dates section every once in a while and come visit us in one of our shows!