Intro Magazine on 'Privilege'…
Wow. I am speechless. English translation is followed by the German original text. You can find the original post here.
***
GLITTERBUG
Privilege
[C.sides / Kompakt / VÖ: 17.05.2010 ]
Text: Sandro Böge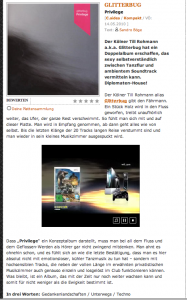 Der Kölner Till Rohmann a.k.a. Glitterbug hat ein Doppelalbum erschaffen, das sexy selbstverständlich zwischen Tanzflur und ambientem Soundtrack vermitteln kann. Diplomaten-House!
Der Kölner Till Rohmann alias Glitterbug gibt den Fährmann. Ein Stück Holz wird in den Fluss geworfen, treibt unaufhörlich weiter, das Ufer, der ganze Rest verschwimmt. So fühlt man sich mit und auf dieser Platte. Man wird in Empfang genommen, ab dann geht alles wie von selbst. Bis die letzten Klänge der 20 Tracks langen Reise verstummt sind und man wieder in sein kleines Musikzimmer ausgespuckt wird.
Dass "Privilege" ein Konzeptalbum darstellt, muss man bei all dem Fluss und dem Geflossen-Werden als Hörer gar nicht zwingend mitdenken. Man ahnt es ohnehin schon, und es fühlt sich an wie die letzte Bestätigung, dass man es hier absolut nicht mit emotionsloser, kühler Tanzmusik zu tun hat – sondern mit hochsensiblen Tracks, die neben der vollen Länge im erwähnten privatistischen Musikzimmer auch genauso einzeln und losgelöst im Club funktionieren können.
Was bleibt, ist ein Album, das mit der Zeit nur noch weiter wachsen kann und somit für nicht weniger als die Ewigkeit bestimmt ist.
***
English translation:
GLITTERBUG
Privilege
[C.sides / Kompakt / VÖ: 17.05.2010 ]
Text: Sandro Böge
The Cologne based producer Till Rohmann aka Glitterbug created a double album, that sexily-naturally moderates between the dancefloor and an ambient soundtrack. Diplomat's House music!
The Cologne based producer Till Rohmann aka Glitterbug mimes the ferryman. A piece of wood is thrown into the water, floats unstoppably, and the shore, and everything else beyond, immediately becomes blurry. This is how one feels with this record. You are picked up in the beginning, and from there everything happens on its own. Until the last sounds of this 20 track long journey become silent and one is spit out in their private little listening room again.
'Privilege' is a concept album, but that is nothing that the listener needs to bare in mind with all this floating and being floated. One may suspect this already, but once listening you get the final confirmation: this doesn't have anything to do with emotionless, cold dance music- these are highly sensitive tracks, that fulfill their destiny both in all of its epic length at home as well as melted out of the greater context as single tracks in the club.
What remains is an album that over time only continues to grow and is thus destined for nothing less than eternity.