One hour Glitterbug-feature on bln.fm…
Our friends at bln.fm had me over for a long studio talk about me, my current album and projects, as well as a lot of personal things. So if you feel like listening to me talking for an hour straight, tune in!

Listen to the stream on their website if you don't live in Berlin and thus can't receive the radio signal, on either Tuesday 25th of May at 8pm // Saturday 29th of May at 4pm // Sunday 31st of May 9pm.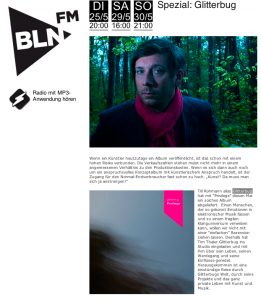 "Wenn ein Künstler heutzutage ein Album veröffentlicht, ist das schon mit einem hohen Risiko verbunden. Die Verkaufszahlen stehen meist nicht mehr in einem angemessenen Verhältnis zu den Produktionskosten. Wenn es sich dann auch noch um ein anspruchsvolles Konzeptalbum mit künstlerischem Anspruch handelt, ist der Zugang für den Normal-Endverbraucher fast schon zu hoch. "Kunst? Da muss man sich ja anstrengen!"
Till Rohmann alias Glitterbug hat mit "Privilege" diesen Mai ein solches Album abgeliefert. Einen Menschen, der so gekonnt Emotionen in elektronischer Musik fassen und zu einem fragilen Klanguniversum verweben kann, wollen wir nicht mit einer "einfachen" Rezension ziehen lassen. Deshalb hat Tim Thaler Glitterbug ins Studio eingeladen und mit ihm über sein Leben, seinen Werdegang und seine Einflüsse geredet. Herausgekommen ist eine einstündige Reise durch Glitterbugs Welt, durch seine Projekte und das ganz private Leben mit Kunst und Musik."