Clubbingspain on 'Privilege'…
This is such a beautiful review. Thank you guys so so much!!!
Here you can find the original article.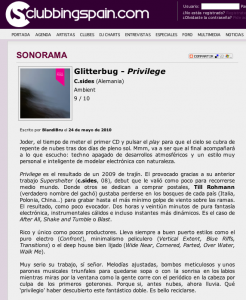 Glitterbug – Privilege
C.sides (Alemania)
9 / 10
Escrito por BlandiBru el 24 de mayo de 2010
"Joder, el tiempo de meter el primer CD y pulsar el play para que el cielo se cubra de repente de nubes tras dos días de pleno sol. Mmm, va a ser que al final acompañará a lo que escucho: techno apagado de desarrollos atmosféricos y un estilo muy personal e inteligente de modelar electrónica con naturaleza.
Privilege es el resultado de un 2009 de trajín. El provocado gracias a su anterior trabajo Supershelter (c.sides, 08), debut que le valió como poco para recorrerse medio mundo. Donde otros se dedican a comprar postales, Till Rohmann (verdadero nombre del gachó) gustaba perderse en los bosques de cada país (Italia, Polonia, China…) para grabar hasta el más mínimo golpe de viento sobre las ramas. El resultado, como poco evocador. Dos horas y veintiún minutos de pura fantasía electrónica, instrumentales cálidos e incluso instantes más dinámicos. Es el caso de After All, Shake and Tumble o Blast.
Rico y único como pocos productores. Lleva siempre a buen puerto estilos como el puro electro (Confront), minimalismo peliculero (Vertical Extent, Blue Riffs, Transitions) o el deep house bien lijado (Wide Near, Cornered, Parted, Over Water, Walk Me).
Muy serio su trabajo, sí señor. Melodías ajustadas, bombos meticulosos y unos parones musicales triunfales para quedarse sopa o con la sonrisa en los labios mientras miras por la ventana como la gente corre con el periódico en la cabeza por culpa de los primeros goterones. Porque si, antes nubes, ahora lluvia. Qué 'privilegio' haber descubierto este fantástico doble. Es bello reciclarse."