Free compilation, free Glitterbug track!
The c/o pop Festival is approaching, and one of the tracks from my current album, 'Float', was picked for this year's compilation. By the way- we will perform on Thursday, the 24th of June, at the famous Stadtgarten venue. More info on our show in another post…
More on the compilation here, and the track list please find bellow.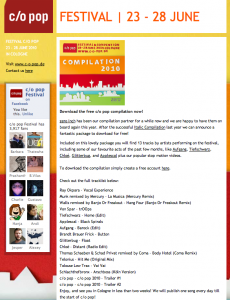 "Included on this lovely package you will find 13 tracks by artists performing on the festival, including some of our favourite acts of the past few months, like Aufgang, Tiefschwarz, Chloé, Glitterbug, and Applescal plus our popular stop motion videos."
Ray Okpara – Vocal Experience
Munk remixed by Mercury – La Musica (Mercury Remix)
Walls remixed by Banjo Or Freakout – Hang Four (Banjo Or Freakout Remix)
Von Spar – trOOps
Tiefschwarz – Home (Edit)
Applescal – Black Spirals
Aufgang – Barock (Edit)
Brandt Brauer Frick – Button
Glitterbug – Float
Chloé – Distant (Radio Edit)
Thomas Schaeben & Schad Privat remixed by Coma – Body Hotel (Coma Remix)
Telonius – Hit Me (Original Mix)
Tolouse Low Trax – Vai Vai
Schlachthofbronx – Arschboss (Köln Version)
c/o pop – c/o pop 2010 – Trailer #1
c/o pop – c/o pop 2010 – Trailer #2