Japan and the world in general.
In the past few weeks and months, I (and pretty much my entire personal and artistic surrounding) have been occupied by the disasters, catastrophes and the political turmoil happening around the world.
Much of my music that I have been working on in the last few months is deeply influenced by the current state of the world and the concurrence of greatly impactful events, providing a new and uncanny undertone.
Our next c.sides Label release is a double CD compilation with all-new commissioned works under the title "Audible Approaches For A Better Place" a project that will also be performed by all participants on the 12th of May at the HKW in Berlin (more info here)
I have an upcoming abstract ambient EP under the title "Egress EP" that will be released on the Israeli label False Ind., an EP that investigates the search and hope of finding new places and new prospects in the wreckage, when everything familiar has turned to rubble, and even more so,  my next album which will be titled "Cancerboy",  a darker Glitterbug than previously known. An album that deals, as the title says, with cancer on a very personal and autobiographical level.
I have barely felt so hope- and helpless watching the news, and not that I actually would believe that giving tracks to benefit compilations and playing in benefit concerts makes that much of a difference, I do not see any other way of getting involved at the moment, so I think it's still better than doing nothing.
Dear collegue and appreciated artist and musician Terre Thaemlitz wrote a nice text about the cons of participating in such things (you can read it here), and while I certainly agree with much of his criticism, I still do believe that it doesn't hurt to give a little bit of something if you don't have the means or framework to give more or other things.
So, below are two projects that I / we participate in.
Firstly, a compilation that our friends at Kompakt are putting out: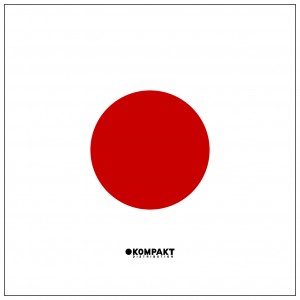 "Even if the headlines are now dominated by other topics – many of our Japanese friends are still in a dire situation. Kompakt's family of distributed labels feels the urge to help, so here it comes: 34 tracks handpicked by the owners of some of the world's leading labels in electronic music: Ostgut Ton, Freude Am Tanzen, Bpitch Control, Dial, Kompakt, Comeme, Raster Noton, Monika, Rrygular, Vidab, Optimo, Anticipate and many more. Ranging from etherical ambient sounds to pumping club sounds of Berlin, New York's new disco underground and leftfield experimentations there's something for everyone. All money generated from this unique compilation goes directly to help organizations in Japan."
Tracklisting:
1. Marsen Jules – Trio Les Fleurs (Oktaf)
2. Ezekiel Honig – Past Tense Kitchen Movement (Anticipate)
3. Jahcoozi – Lost In The Bass (Bpitch Ctrl)
4. Space System – Petik (Optimo Music)
5. Greie Gut Fraktion – Wir Bauen Eine Neue Stadt Wolfgang Voigt Remix (Monika)
6. Manaboo – Unhuh (Steadfast)
7. Efdemin – Time (Dial)
8. Antonelli – Waiting For You (Italic)
9. André Lodemann – Searchin' (Best Works)
10. Lawrence – Dwelling On The Dunes (Laid)
11. Michael Mayer – Picanha Frenesi (Kompakt)
12. Nhar – Megumi (200 Records)
13. Xaver von Treyer – Lunar Rover (Supersoul)
14. Cosmic Kids – Reginald's Groove (Throne Of Blood)
15. My Favorite Robot – The Future Will Judge (My Favorite Robot)
16. Kaito – Open My Window (Kompakt)
17. Audision – Red Sky (And)
18. Monkey Maffia – Yo Baby Yo (Freude Am Tanzen)
19. Nick Höppner – Makeover (Ostgut Ton)
20. Gowentgone – Love & Respect (Vidab)
21. Glitterbug – Parted (C.Sides)
22. SCSI-9 – Electric Flowers (Pro-Tez)
23. Dusty Kid – America (Boxer)
24. Tassilo – Petite Patate (Rrygular)
25. Davenport & Deutschmann – Trump (Falkplatz)
26. Mr. Statik – Smoothest Cat On The Block (Memo)
27. Someone Else – Funny Day Elsewhere (Foundsound)
28. Ana Helder – El Groove De Tu Corazon (Comeme)
29. Anne-James Chaton – Vendredi 26 Juin 2009 – Événement N°23 (Raster)
30. Borngräber & Strüver – People Crying (M=Minimal)
31. Metaboman – Stony (Musik Krause)
32. Maya Jane Coles – You (Hypercolour)
33. DJ Olive – Kokanee's Drop (Agriculture)
34. Out Of Plato's Cave – Rainbow For Dawn Shane Berrys Rainbow for Japan Mix (Greta Cottage Workshop)
Secondly, Ronni Shendar and I will be performing in a benefit concert on the 8th of May in Berlin at Maria Club.
KI.ZUNA
Kizuna is the japanese word for bond.
www.kizuna-berlin.de
"After the catastrophic happening in Japan, which has not directly affected us, who live here in Berlin, it became a frustrating and helpless situation. Obliqued by the international media, we are concerned about the people and our friends and family in Japan.
After many years of intense exchange of art and culture between Berlin and Tokyo, our friends stand by us and share the situation. This strong bond encouraged our team, of Berlin DJ ́s and promoters, to become active supporters and demonstrate a KI.ZUNA to Japan.
With the KI.ZUNA event, we want to show our sympathy and friendship with a benefit party. Together with an Berlin located international artist collective of DJ ́s, musicians, promoters and media, we want to support the reconstruction in the effected areas.
The location Maria am Ostbahnhof, is a strong partner who instantly commited to the KI.ZUNA benefiz. All crew, location, technical support, promotion, artist fees will be sponsored.The entrance fee will be 100% donated.
Not only the natural cathastrophy, as well the nuclear desaster has and furtherly will cause a lot of victims. We will make sure that the money will be recieved in the areas of (for example) Fukushima, Miyagi and Iwate – the three most affected places.
As our official donation partner, we chose betterplace.org as the biggest donation platform in Germany, to keep the lowest production costs and show the most transparency to all supporters.
On the following link, you will get all needed information about the supported projects and follow your donation:
www.kizuna-berlin.betterplace.org"
Lineup:
Aerea Negrot bpitch control | live
Akiko Kiyama | live – japan
Glitterbug & Ronni Shendar c.sides | audiovisual live performance
Kai Taro | live – japan
Shingo Suwa merkur | live – japan
Roman Flügel (tbc)
Kiki bpitch control
Soundstream soundstream
Stewart Walker persona
Gebrüder Teichmann
Ryo Fujimoto
humanelectro | japan
Mieko Suzuki koo koo | japan
Mijk Van Dijk
Mary Jane | ritterbutzke
Frank Mueller | müller rec
Didier de la Boutique | tonkind
Akira Hwaks | japan
Ara | groove magazin
Aroma | aromamusic
Charles Tone | pentagonik
Elbee
Bad Jakob Richter | maria
Hito | japan