PonyDanceClyde's warm words about Cancerboy and the video for Passages
Thanks dear people of PonyDanceCycle! You can read the original article here.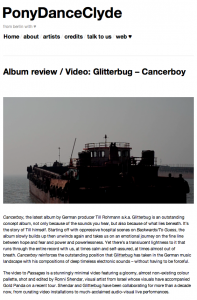 Cancerboy, the latest album by German producer Till Rohmann a.k.a. Glitterbug is an outstanding concept album, not only because of the sounds you hear, but also because of what lies beneath. It's the story of Till himself. Starting off with oppressive hospital scenes on Backwards/To Guess, the album slowly builds up then unwinds again and takes us on an emotional journey on the fine line between hope and fear and power and powerlessness. Yet there's a translucent lightness to it that runs through the entire record with us, at times calm and self-assured, at times almost out of breath. Cancerboy reinforces the outstanding position that Glitterbug has taken in the German music landscape with his compositions of deep timeless electronic sounds – without having to be forceful.
The video to Passages is a stunningly minimal video featuring a gloomy, almost non-existing colour pallette, shot and edited by Ronni Shendar, visual artist from Israel whose visuals have accompanied Gold Panda on a recent tour. Shendar and Glitterbug have been collaborating for more than a decade now, from curating video installations to much-acclaimed audio-visual live performances. – Fanni Briggl