Glitterbug @ Intro / Metrowaves Festival, Beijing
I am super excited and happy to be back in Beijing. Thanks Mumu and Markus of Metrowaves for having me! I will be playing live at the Metrowaves Stage @ Intro Festival and DJ at the Metrowaves after party @ Migas in Sanlitun, Beijing.
EDIT: The Intro Festival was moved to a different location- find more info here.
***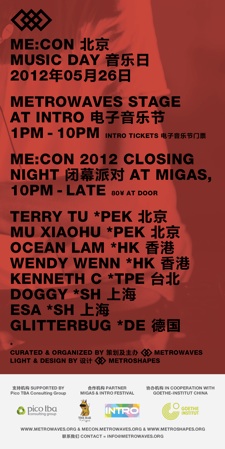 me:con expands with its "metrowaves stage" at this years intro festival, china's biggest annual festival for electronic dance music taking place in beijing on may 26 for its fourth edition.
artists from beijing, shanghai, hong kong, taipei and germany are gathering to share electronic music culture with the festival audience. the me:con 2012 convention will be wrapped by the "metrowaves night" at migas the evening,
from 10 pm until late – with:
glitterbug, cologne – germany | terry tu, beijing | mu xiahu, beijing | ocean lam, hong kong (humdrum) | wendy wenn , hong kong (small&tall) | kenneth c, taipei (smokemachine) | doggy, shanghai (master builder) | esa, shanghai (bangin! bangin!)