Hong Kong show on Saturday, 6th of April 2013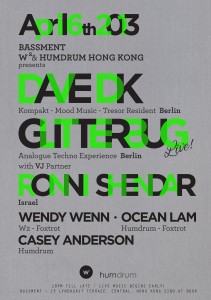 We are super mega excited to be in Hong Kong, and to premiere our new show to a new audience in a new city with (almost) old friends: the great Humdrum HK collective (musically presented by Ocean Lam, Wendy Wenn and Casey Anderson) and Dave Dk. We can't wait!!
Find us at the Bassment
13 Lyndhurst Terrace
Central, Hong Kong
香港中環擺花街13號
Saturday, 6 April 2013
10PM – 6AM (Live music begins early!)
HK$180 at door
In case you wanna spread the word, here's the FB event!