May 25th: Live at Glashaus, Bayreuth!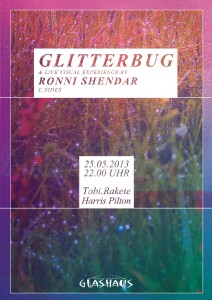 We are more than happy to return to Glashaus Beyreuth- last time was amazing and a bit of a legendary show for the both of us! We will be supported by the fantastic one and only Tobi Rakete and Haris Pilton. Let's hope we can leave an even better impression than last time- our set for sure has changed a lot since then…
This is what it sounded like the last time- so listen, come to our show and judge for yourself!

Glitterbug Live at Glashaus Bayreuth, 2nd of December 2011 by Glitterbug