With Guitars UK about Dust…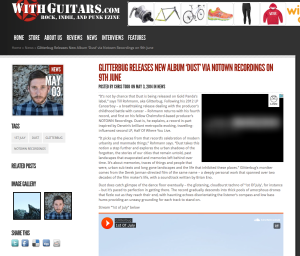 Here are some very warm words about Dust on a platform that most likely usually doesn't really cover my musical ground. I'm even more happy to read that they seem to really like my music! You can find the original article here.
"It's not by chance that Dust is being released on Gold Panda's label," says Till Rohmann, aka Glitterbug. Following his 2012 LP Cancerboy – a breathtaking release dealing with the producer's childhood battle with cancer – Rohmann returns with his fourth record, and first on his fellow Chelmsford-based producer's NOTOWN Recordings. Dust is, he explains, a record in-part inspired by Derwin's brilliant metropolis-evoking, travelling-influenced second LP, Half Of Where You Live.
"It picks up the pieces from that record's celebration of modern urbanity and manmade things," Rohmann says. "Dust takes this notion a step further and explores the urban shadows of the forgotten, the stories of our cities that remain untold, past landscapes that evaporated and memories left behind over time. It's about memories, traces of things and people that were, urban sub texts and long gone landscapes and the life that inhibited these places." Glitterbug's moniker comes from the Derek Jarman-directed film of the same name – a deeply personal work that spanned over two decades of the film maker's life, with a soundtrack written by Brian Eno.
Dust does catch glimpse of the dance floor eventually – the glistening, cloudburst techno of '1st Of July', for instance – but it's paced to perfection in getting there. The record gradually descends into thick pools of amorphous drones that fizzle out as they reach their end, with haunting echoes disorientating the listener's compass and low bass hums providing an uneasy grounding for each track to stand on.