Sonic Router (UK) premieres first live recording of Dust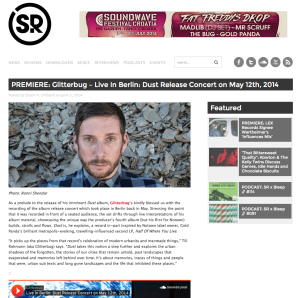 I feel very honoured to have Sonic Router (UK) premiere the recording of our first live recording of our brand new show, entirely based on materials from my new album, Dust.You can find the full article here.
As a prelude to the release of his imminent Dust album, Glitterbug's kindly blessed us with the recording of the album release concert which took place in Berlin back in May. Stressing the point that it was recorded in front of a seated audience, the set drifts through live interpretations of his album material, showcasing the unique way the producer's fourth album (but his first for Notown) builds, strolls and flows. Dust is, he explains, a record in-part inspired by Notown label owner, Gold Panda's brilliant metropolis-evoking, travelling-influenced second LP, Half Of Where You Live.
"It picks up the pieces from that record's celebration of modern urbanity and manmade things," Till Rohmann (aka Glitterbug) says. "Dust takes this notion a step further and explores the urban shadows of the forgotten, the stories of our cities that remain untold, past landscapes that evaporated and memories left behind over time. It's about memories, traces of things and people that were, urban sub texts and long gone landscapes and the life that inhibited these places."