The Skinny (UK) about Dust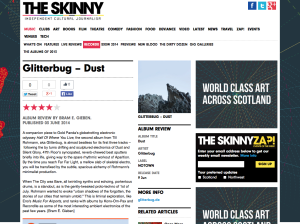 British magazine The Skinny recently published a very nice little review about my current album both online and in their print issue. You can find the article here.
A companion piece to Gold Panda's globetrotting electronic odyssey Half Of Where You Live, the second album from Till Rohmann, aka Glitterbug, is almost beatless for its first three tracks – following the by turns drifting and sculptured electronics of Dust and Silent Glory, 47th Floor's syncopated, reverb-chewed beat sputters briefly into life, giving way to the spare rhythmic workout of Aparition. By the time you reach Far Far Light, a mellow slab of skeletal electro, you will be transfixed by the subtle, spacious alchemy of Rohmann's minimalist production.
When The City was Bare, all twinkling synths and echoing, portentous drums, is a standout, as is the gently-tweaked proto-techno of 1st of July. Rohmann wanted to evoke "urban shadows of the forgotten, the stories of our cities that remain untold." This is liminal exploration, like Eno's Music For Airports, and ranks with albums by Konx-Om-Pax and Recondite as some of the most interesting ambient electronica of the past few years. [Bram E. Gieben]