XLR8R offers free download of "When The City Was Bare" off Dust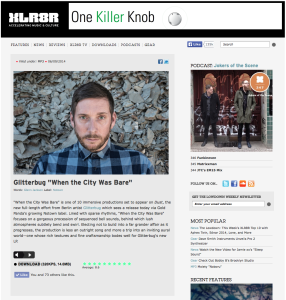 You can read what XLR8R has to say below or here. If you just want to download the track, you can do so here.
***
"When the City Was Bare" is one of 10 immersive productions set to appear on Dust, the new full-length effort from Berlin artist Glitterbug which sees a release today via Gold Panda's growing Notown label. Lined with sparse rhythms, "When the City Was Bare" focuses on a gorgeous procession of sequenced bell sounds, behind which lush atmospheres subtlety bend and swirl. Electing not to build into a far grander affair as it progresses, the production is less an outright song and more a trip into an inviting aural world—one whose rich textures and fine craftsmanship bodes well for Glitterbug's new LP.