John Bittle of Titel Kulturmagazin on Dust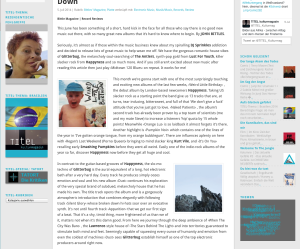 The friendly people of Titel Kultur-Magazin have been very kind to me and sent Mr. John Bittle my way. Or the other way around? Regardless, his words made me giggle and very very happy. Nobody had found such nice words for 'Apparition' (one of the tracks on Dust) yet… but read for yourself, and don't miss the rest of the reviews to be found here!
***
Some New Music To Turn That Frown Upside-Down
5. Juli 2014
Bittle Magazine | Record Reviews
This June has been something of a short, hard kick in the face for all those who say there is no good new music out there, with so many great new albums that it's hard to know where to begin. By JOHN BITTLES.
Seriously, it's almost as if those within the music business knew about my spiralling DJ Sprinkles addiction and decided to release lots of great music to help wean me off. We have the gorgeous romantic house vibes of Glitterbug, the melancholy soul-searching of The Antlers, synth-pop gold from Lust For Youth, killer slacker rock from Happyness and so much more. And if you still aren't excited about new music after reading this article then just play ›Midtown 120 Blues‹ on repeat. It works for me!
(…)
The slo-mo techno of Glitterbug is the aural equivalent of a long, hot electronic bath after a very hard day. Every track he produces simply oozes emotion and soul and his new album ›Dust‹ continues his exploration of the very special brand of subdued, melancholy house that he has made his own. The title track opens the album and is a gorgeously atmospheric introduction that combines elegantly with following track ›Silent Glory‹ whose broken down hi-hats soar over an evocative synth. It's not until fourth track ›Apparition‹ that we get our first sign of a beat. That it's a shy, timid thing, more frightened of us than we of it, matters not when it's this damn good. From here we journey through the deep ambience of ›When The City Was Bare‹ , the Lawrence-style house of ›The Stars Behind The Light‹ and into territories guaranteed to stimulate both mind and feet. Seemingly capable of squeezing every ounce of humanity and emotion from even the coldest of machines ›Dust‹ sees Glitterbug establish himself as one of the top electronic producers around right now.