Uncool Magazine about Dust (Spanish)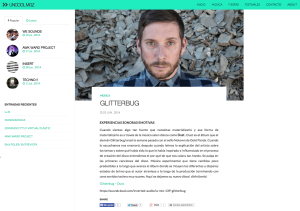 This review by the nice people of Uncool Magazine has been online for some time, but I only found it now. You can find the original post here.
EXPERIENCIAS SONORAS EMOTIVAS
Cuando sientes algo tan fuerte que necesitas materializarlo y esa forma de materializarlo es a través de la música salen discos como Dust. Dust es el álbum que el alemán Glitterbug lanzó la semana pasada con el sello Notown de Gold Panda. Cuando lo escuchamos nos enamoró, después cuando leímos la explicación del artista sobre los temas y sobre qué había sido lo que le había inspirado e influenciado en el proceso de creación del disco entendimos el por qué de que nos calara tan hondo. Se palpa en las primeras canciones del disco. Música experimental que tiene cambios poco predecibles a lo largo que avanza el álbum donde se intuyen los diferentes y dispares estados de ánimo que el autor atraviesa a lo largo de la producción terminando con unos sonidos techno muy suaves. Aquí os dejamos su nuevo disco! disfrútenlo!