Coming up next: Glitterbug @ c/o pop, Cologne, on 12th and 13th of August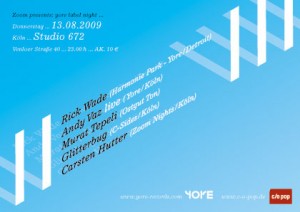 In a little less than two weeks, on the 12th of August to be exact, Colognes c/o pop will open its doors.
I will be performing twice: once in the opening night on Wednesday, the 12th of August, performing the Supershelter audio visual live show together with Ronni Shendar (before the show of Moderat), taking place at the Gloria in downtown Cologne.
The following night, Thursday, the 13th of August, I will be warming up for legendary Rick Wade on the turntables at the good ol' Studio 672, at the Yore Label Night together with dear friends and fellow artists Murat Tepeli and a live set of the Yore Label's mastermind and label owner Andy Vaz.