Glitterbug Remix for Schaffhäuser & Friends / Ware81
Ware81, out on August 31st, 2009: Mathias Schaffhäuser & Friends released the final vinyl excerpt of previously unreleased tracks from the great 'Unequal Equality' album, this one including a remix I made: "It's just flesh (what they call brain) – Glitterbug's Ibiza Panda Remix"
Yesterday, the latest Groove magazine came out and they wrote some really flattering things about my remix (wow – thanks Groove!!!):
Original German text:
"Glitterbug bedient sich in seinem "Ibiza Panda Rmix" einer gezielteren Auswahl der Einzelpartikel, schiebt Flächen zwischen Dial und Planet E dazwischen und verdichtet das Ganze zusehends zu einer heimlich wachsenden Hymne. Monströs!"
And an English translation:
"Glitterbug takes a tightly focused selection of the original elements, incorporates pads that lay somewhere between Dial and Planet E and condenses it more and more to a stealthily evolving anthem. Monstrous!"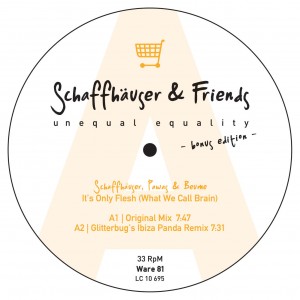 Format: 12" Vinyl + digital
Cat.-No.: Ware 81
Distribution: Kompakt/MDM/Alive/Finetunes
Release date: 07/09/09; Barcode-CD: 8 81390 1381 6 6
The Schaffhäuser & Friends series was so much fun to make and so well received, it now enters round three with an additional bonus vinyl. All tracks on this EP have never been released, not even on the CD edition of "Unequal Equality".
"It's Only Flesh (What We Call Brain)" by Schaffhäuser; Pawas & Beume take a unique journey through dance history mixing crisp dubhouse and Kraut vocals. With his "Ibiza Panda Remix" Glitterbug continues right where his "Supershelter" album ended – perfectly in the middle between understatement, euphoria and desire. The vocal mix by Schaffhäuser & Midinovela's "Quiero" takes up all of side two. Not only different from the instrumental album version with EDU's (Buenos Aires) super smooth vocals, it also features revised and optimised arrangements and sounds.