'Dust' Concert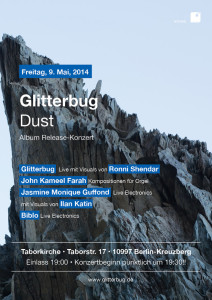 Glitterbug 'Dust' – Release-Konzert
am Freitag, den 9.5.2014
(English translation below all that German…)
Taborkirche
Taborstr. 17
10997 Berlin-Kreuzberg (Wrangelkiez)
Türen öffnen um 19:00, das Konzert beginnt um 19:30 (PÜNKTLICH!!)
(Die Kirche liegt zwischen Wohnhäusern, daher müssen wir pünktlich anfangen und frühzeitig das Konzert beenden)
Eintritt: 8-10€
*******
Wir freuen uns, Glitterbug's neues und bereits viertes Album, Dust, welches am 12.5.2014 auf Gold Panda's Notown Recordings und dem c.sides Label erscheinen wird, hiermit offiziell anzukündigen.
Um das Release und die Premiere von Glitterbugs neuer Live-Show zu feiern, haben wir einige unserer FreundInnen und LieblingskünstlerInnen eingeladen, die allesamt eng mit c.sides verbunden sind.
Das Konzert wird in einer einzigartigen Location stattfinden, der Taborkirche in Berlin-Kreuzberg. Dies ist ebenfalls eine rare Gelegenheit Glitterbug endlich mal wieder in Berlin live zu sehen.
Bei dem Konzert wird es auch die Möglichkeit geben, Glitterbug's neue Platte auf Vinyl und CD zu kaufen, bevor sie in der darauffolgenden Woche in den Plattenläden steht. Für BesucherInnen des Konzerts wird es einen speziellen Package-Deal geben, falls Album und Eintrittskarte zusammen erworben werden.
*******
Glitterbug and Ronni Shendar – Audio-Visuelles Live-Konzert
Glitterbug's Live Show wird von seiner Langzeit-Mitstreiterin Ronni Shendar visuell begleitet.
Ronni, die auch für das komplette Artwork seiner Releases verantwortlich ist, ergänzt seine Liveauftritte um eine atemberaubende visuelle Komponente. Zusammen kreieren sie eine cinematische, umfassende und aufwühlende Erfahrung.
www.glitterbug.de
www.ronni-shendar.com
***
John Kameel Farah – Organ Pieces
John Kameel Farah ist ein international beachteter Komponist, Pianist und Organist aus Toronto, Kanada. Er wird an diesem Abend seine eigenen Kompositionen und Improvisationen auf der Orgel der Taborkirche spielen.
***
Jasmine Monique Guffond – Live Electronics, Visuals von Ilan Katin
Jasmine, auch vielen bekannt als Jasmina Machina, wird neue Arbeiten live vorstellen, die sie speziell für c.sides komponiert und produziert hat, und die im Herbst 2014 als Split-EP zusammen mit Biblo auf unserem Label erscheinen werden.
Für diese sehr spezielle und intime Show wird sie von Ilan Katin aus New York begleitet, mit dem sie seit Jahren immer wieder für Live-Kollaborationen und Installationen zusammen arbeitet.
www.jasminamaschina.com
www.ilankatin.com
***
Biblo – Live Electronics
Wir freuen uns, an diesem Abend einen ganz besonderen Gast aus Istanbul begrüßen zu dürfen- Biblo, deren Musik vielleicht am ehesten als in Teilen düsterer, rauer, leicht industriell angehauchter, langsamer Drone-Techno beschrieben werden kann, dessen unglaubliche Intensität auch, aber definitiv nicht ausschließlich auf ihrer ganz besonderen Stimme basiert, die sie in fast allen ihrer Stücke einsetzt. Auch wenn ihre Musik klingt wie nichts anderes, könnte man vielleicht trotzdem eine leichte Parallele zu Andy Stott ziehen- wenn man unglaubliche Emotionalität und eine Tiefe bis hinunter zum Marianengraben hinzuaddiert.
Biblo wird ihr nächstes Album im späten Herbst 2014 auf unserem c.sides Label veröffentlichen, und somit ist dies eine wundervolle Gelegenheit, sich ein erstes Mal mit ihrer Musik vertraut zu machen (und ja, wir sind große Fans!)
***
ENGLISH
Glitterbug 'Dust' – Release Concert
Friday, May 9th, 2014
Tabor Church
Taborstr. 17
10997 Berlin-Kreuzberg
Doors open at 19:00h // Concert begins at 19:30 SHARP!
(The church is located in a residential complex, so the concert will end at 22:00 sharp)
– –
We are thrilled and terribly proud to announce the upcoming release of Glitterbug's new album 'Dust' on Gold Panda's label NOTOWN Recordings.
To celebrate the release and the premier of Glitterbug's new live show, we have gathered some of our favorite artists, dear friends and incredible performers, all closely related to the c.sides imprint.
The concert will take place in a truly unique setting, the Tabor Church in Kreuzberg (Wrangelkiez), and is an opportunity to see Glitterbug in a concert setting for the first time in two years in Berlin.
***
Glitterbug feat. Ronni Shendar – live audio-visual performance
Glitterbug will be joined by his long term collaborator, Israeli visual artist Ronni Shendar (who created the album's artwork).
Ronni's work has become an indivisible element of his performance; creating a cinematic, encompassing experience.
www.glitterbug.de
www.ronni-shenar.com
***
John Kameel Farah – organ and electronics
John Kameel Farah is an internationally acclaimed Toronto/Berlin–based composer, pianist and visual artist.
John will perform from his own compositions and improvisations on the Taborkirche organ.
www.johnfarah.com
***
Jasmine Monique Guffond – live electronics, visuals by Ilan Katin
Jasmine, also known by many as Jasmina Machina, will perform new works especially composed and produced for c.sides Label (upcoming release late 2014).
For this very special show, she will joined by visual artist Ilan Katin with whom she's closely collaborated in live performances and installation work.
www.jasminamaschina.com
www.ilankatin.com
***
Biblo – live electronics
Hailing from Istanbul/ Turkey, Biblo's music could probably best be described as dark, raw, slightly industrial, slow techno-ish noise with (her own) vocals.
Think Andy Stott, with added depth and emotion as deep as the sea.
Biblo will release her next full length album on c.sides in late 2014 – this will be a great opportunity to get familiar with her unique sound (yes, we're BIG fans!).