Booking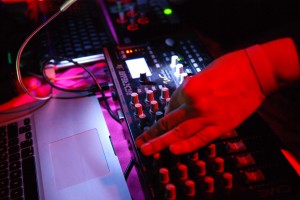 Glitterbug is available for his mesmerizing live show, deep-warm-raving 3-turntable dj set and/or joint audio-visual performance with internationally acclaimed Israeli video artist Ronni Shendar (also the co-director of the c.sides Festival) who created an amazing, cinematic and customized live video performance.
—
About Glitterbug's live show with Ronni Shendar
For his mesmerizing, internationally celebrated live audio performance, (known for incorporating a wide range of analogue equipment on stage to construct his full, warm and defined sound), Glitterbug joined up with Israeli visual artist Ronni Shendar to create a collaborative audio-visual performance that carries the intensity of his upcoming double-CD / 2×12'' vinyl album 'Privilege' (out in May 2010) to a whole new dimension. The result is absolutely stunning.
Every bit and piece of their performance is built and customized from scratch and linked to one another to create a fluid experience that is both powerful and exhilarating. Shendar followed on the album's base concepts and themes to explore its desolate landscapes, uninhibited territories and blurry distant dolor, a further interpretation to her photographs that comprise the album's artwork. Based solely on her original footage, materials and photographs Shendar uses various simple manipulation techniques to create a cinematic language that slowly unfolds layers, textures and landscapes leading audience to her extraordinary concurrent world.
In creating their new live performance, Shendar and Rohmann built upon the footsteps of their previous joint performances that left promoters and audiences around the world in awe, a show that already then pushed the borders of what can be done in club and festival contexts.
Their new show takes their unique audio-visual approach not only one step forward, but is a whole new evolutionary step in their work, creating an absolute experience that seizes the audience to a fantastic, overwhelming and remarkable voyage that unfolds its layers, emotion and content, aiming directly at the heart- resulting in a truly unmatched and unforgettable experience.
For booking requests, please write to booking@csides.net
For any press requests please write Sandra of the amazing Stars & Heroes Agency: sandra@stars-and-heroes.com
Here's a video of me performing the new A/V live show for the 'Privlege' album tour with video artist Ronni Shendar:
Glitterbug & Ronni Shendar LIVE @ Trouw Amsterdam! from c.sides on Vimeo.