South New Delhi, at a random shopping mall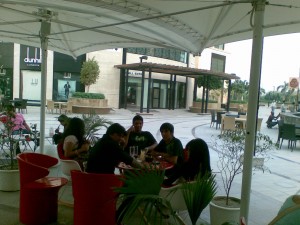 Again we were cruising through slums, dust, through a city that consists of endless gated communities, walls, huge streets, and is totally inaccessible without a car or one of the ever-present rickshaws (with or without a motor). We went all the way out to the south to meet some artists that we performed with last Saturday that are cooperating with a bar/ cafe there to establish a commercial art space, and- without being prepared- ended up in shopping mall that looked like it could have been in Dubai- glitzy, shiny, with the obvious Luis Vuitton flagship store right next to the Dior flagship store, you can imagine how it looked like.
Here is an audio impression of our (hopefully imaginable) confusion.