Thursday, August 9th, 2012
Many thanks dear Headphone Commute! You can read the original review here.
***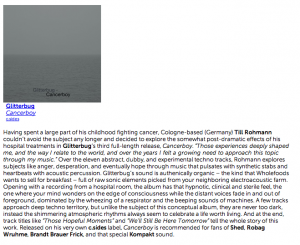 Having spent a large part of his childhood fighting cancer, Cologne-based (Germany) Till Rohmann couldn't avoid the subject any longer and decided to explore the somewhat post-dramatic effects of his hospital treatments in Glitterbug's third full-length release, Cancerboy. "Those experiences deeply shaped me, and the way I relate to the world, and over the years I felt a growing need to approach this topic through my music." Over the eleven abstract, dubby, and experimental techno tracks, Rohmann explores subjects like anger, desperation, and eventually hope through music that pulsates with synthetic stabs and heartbeats with acoustic percussion. Glitterbug's sound is authenically organic – the kind that Wholefoods wants to sell for breakfast – full of raw sonic elements picked from your neighboring electroacoustic farm. Opening with a recording from a hospital room, the album has that hypnotic, clinical and sterile feel, the one where your mind wonders on the edge of consciousness while the distant voices fade in and out of foreground, dominated by the wheezing of a respirator and the beeping sounds of machines. A few tracks approach deep techno territory, but unlike the subject of this conceptual album, they are never too dark, instead the shimmering atmospheric rhythms always seem to celebrate a life worth living. And at the end, track titles like "Those Hopeful Moments" and "We'll Still Be Here Tomorrow" tell the whole story of this work. Released on his very own c.sides label, Cancerboy is recommended for fans of Shed, Robag Wruhme, Brandt Brauer Frick, and that special Kompakt sound.