About Glitterbug
Glitterbug is a composer, producer, DJ, artist and curator; standing tall in all musical genres he puts his fingers on. Be it deep techno, remixing, ambient works, writing music for films or audio-visual installations, his musical language always resonates with a score-like, visual approach.
Glitterbug draws from the manifold of his social and global experiences to bring substantial content to his delicate sounds. With masterful production and greatest attention to broadened frequency and smallest detail, he has managed to create unique audio landscapes; sonic experiences, emotive and powerful.
It's his unique, heartfelt and artistic approach to club music that won him international praise, breaking definitions and expanding borders; His live-sets are an analogue prodigious fest; profuse sounds envelop the dance-floor, defined and intense, building moments of abyssal melancholia and points of ecstatic rapture. His long-established collaboration with Israeli visual artist Ronni Shendar, has become an indivisible element of his performance; creating a cinematic, stirring and encompassing experience.
His music and remixes have been released on internationally acclaimed labels such as Ware, Wolfskuil, Mule, Notown, Ghostly, False-Industries, Ki, Obsolete Components, and of course his own c.sides label.
Rene Passet of Dutch DJ Broadcast Magazine crowned Glitterbug as "Germany's best kept techno secret", MCD France titled him"The Derek Jarman of Minimal Techno". Germany's leading recording magazine 'Keys' gave his debut album a perfect 10/10 for both musical content and sound production. Intro Magazine said of his last album 'Privilege' that it is "destined for nothing less than eternity" and Germany's De:Bug Magazine wrote "when one listens to Glitterbug's music, it feels like listening to a better world, a utopia without words".
Here's a very nice interview that was released on the Slices DVD in 2012:
—
About Glitterbug's live show with Ronni Shendar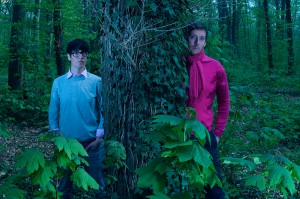 Glitterbug's live-sets are a prodigious performance. He is known for incorporating a wide range of analogue equipment on stage to construct his profuse, warm and defined sound that envelop the dance-floor with rumbling bass and a deep passion.
His collaboration with Israeli visual artist, Ronni Shendar, has brought about an exceptional approach to club music, creating an immersive club experience that left promoters and audiences around the world mesmerized. Every bit and piece of their performance is built, customized and linked to one another to create an impact both powerful and exhilarating.
Shendar works solely with her own original footage, materials and photographs, that with live video techniques translate the music to a cinematic language, unfolding layers, textures and landscapes.
Together they have also been curating and running the c.sides platform – a mulit-faceted festival for electronic music in Israel, a label and platform for various productions and collaborations of artists from around the world.