2 shows & 1 presentation in Mumbai, India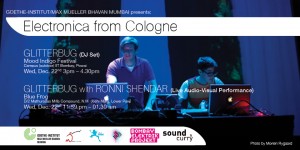 We have the pleasure to perform two shows in Mumbai, India, next Wednesday on the 22nd of December 2010. First I perform a DJ set at the Mood Indigo Festival in the afternoon, later on we play our live A/V show (together with video artist Ronni Shendar) at the Blue Frog. On the 27th of December, starting at 7pm, we'll give a presentation (with a screening of excerpts of Ronni Shendar's video works) at Cafe Goa (Agnelo Building, Khadeshwari Mandir Marg, Off St John Baptist Road, Bandra West, Mumbai -400051).
Thanks to the wonderful people of the Goethe Institute in Mumbai (and especially to fantastic Anja Dunkel) for making this happen!