Electronic Beats Radio premiers new Glitterbug DJ set
Electronic Beats Radio premiered a DJ set of mine last week- thank you Clara Fiedler for chasing after me and for making it happen!! Listen to the mix through the player below or directly on Electronic Beats Radio's website.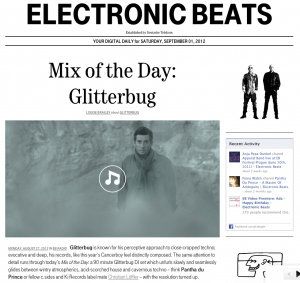 Glitterbug is known for his perceptive approach to close-cropped techno; evocative and deep, his records, like this year's Cancerboy feel distinctly composed. The same attention to detail runs through today's Mix of the Day: a 90 minute Glitterbug DJ set which unfurls slowly and seamlessly glides between wintry atmospherics, acid-scorched house and cavernous techno – think Pantha du Prince or fellow c.sides and Ki Records label mate Christian Löffler – with the resolution turned up.