Studio break in Mangalore, South India
We landed in Mangalore yesterday afternoon, which is on the shores of the Arabian Sea pretty far down south of India. We will stay here for a couple days, and I finally have some time to work on drafts of tracks that I started during this wonderful, yet sometimes emotionally challenging trip.
In case you want to know exactly where we are: here is a Google Maps Link…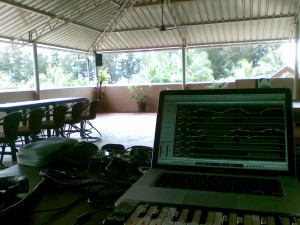 My little, very rudimentary studio is located on the roof of our tiny hotel (which is 15km down south from Mangalore), and all i can see is palm trees and rain-forest vegetation around us, and i hear the sound of the waves and the notorious crows (that one finds everywhere in India), if I do not wear my head phones.
This is how the place sounds like.