'Privilege'-Review in Blurt Mag, US
It's so interesting to see which magazines and online platforms pick up on my latest album. Blurt is an american magazine which usually more covers indie rock and it's siblings, and it's fantastic that my music seems relevant enough to them and their readers to write about it. I also got a fantastic rating… happy me!
You can read the original article here.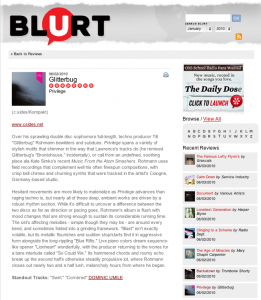 "By DOMINIC UMILE.
Over his sprawling double disc sophomore full-length, techno producer Till "Glitterbug" Rohmann bewilders and subdues. Privilege spans a variety of stylish motifs that shimmer in the way that Lawrence's tracks do (he remixed Glitterbug's "Brontohouse," incidentally), or call from an undefined, soothing place ala Kate Simko's recent Music From the Atom Smashers. Rohmann uses field recordings that complement well his often finespun compositions, with crisp bell chimes and churning synths that were tracked in the artist's Cologne, Germany-based studio.
Hesitant movements are more likely to materialize as Privilege advances than raging techno is, but nearly all of these deep, ambient works are driven by a robust rhythm section. While it's difficult to uncover a difference between the two discs as far as direction or pacing goes, Rohmann's album is flush with mood changes that are strong enough to sustain its considerable running time. The set's affecting melodies – simple though they may be – are around every bend, and sometimes folded into a grinding framework. "Blast" isn't exactly volatile, but its metallic flourishes and sudden stop/starts find it in aggressive form alongside the long-rippling "Blue Rifts." Live piano colors dream sequence-like opener "Lionheart" wonderfully, with the producer returning to the ivories for a bare interlude called "So Could We." Its hammered chords and roomy echo break up the second half's otherwise steadily propulsive lot, where Rohmann closes out nearly two and a half lush, melancholy hours from where he began."
Standout Tracks: "Swirl," "Cornered"