Review in Groove 124
Groove 124 came in today, and i found this amazing review down there… hurray! Bellow the images, you'll find the text in both English and German.
Glitterbug- Privilege
Review in Groove 124, Mai / Juni 2010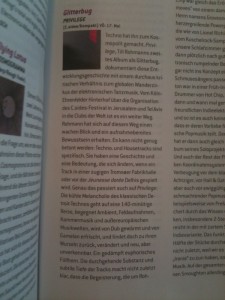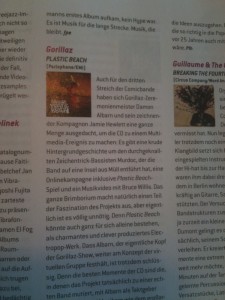 Techno hat ihn zum Kosmopolit gemacht. 'Privilege', Till Rohmanns zweites Album als Glitterbug, dokumentiert diese Entwicklungsgeschichte mit einem durchaus kritischen Verhältnis zum globalen Wanderzirkus der elektronischen Tanzmusik. Vom Köln-Ehrenfelder Hinterhof über die Organisation des c.sides Festivals in Jerusalem und Tel Aviv in die Clubs der Welt ist es ein weiter Weg. Till Rohmann hat sich auf diesem Weg einen wachen Blick und ein aufnahmebereites Bewusstsein erhalten.
Es kann nicht genug betont werden: Techno- und Housetracks sind spezifisch. Sie haben eine Geschichte und eine Bedeutung, die sich ändern, wenn ein Track in einer zugigen Tromsoer Fabrikhalle oder vor der "jeunesse doree" New Delhis gespielt wird.
Genau das passiert auch auf 'Privilege': Die kühle Melancholie des klassischen Detroit-Technos geht auf eine 140-minütige Reise, begegnet Ambient, Feldaufnahmen, Kammermusik und außereuropäischen Musikwelten, wird von Dub gewärmt und von Gamelan erfrischt, und findet doch immer zu ihren Wurzeln zurück, verändert und neu, aber unverkennbar. Ein gedämpft euphorisches Fülhorn. Die durchgehende Substanz und subtile Tiefe der Tracks macht nicht zuletzt klar, dass die Begeisterung, die um Rohmanns erstes Album aufkam, kein Hype war. Es ist Musik für die lange Strecke. Musik die bleibt.
***
Translation to English:
Glitterbug- Privilege
Review in Groove 124, May / June 2010
Techno made him a cosmopolitan. 'Privilege', Till Rohmann's second album as Glitterbug, documents this development with a critical perspective on the traveling circus of electronic dance music. From a back yard studio in Cologne, through organizing the c.sides Festival Jerusalem and Tel Aviv, to the clubs of the world, is a long path. Till Rohmann managed to sustain his attentiveness and receptive consciousness along it.
It can't be said enough often: Techno- and House tracks are very specific. They have both a history and a meaning, that change if a track is played in a draught northern Norwegian warehouse or in front of the lucky golden youth of New Delhi.
And exactly that happens in 'Privilege': The chilly melancholy of classic Detroit techno embarks on a 140 minute long journey, encountering ambient, field recordings, chamber music and non-european musical worlds, warmed by dub and refreshed by Gamelan, yet always finds its way back to its source, altered and new, yet completely distinctive. A slightly muffled euphoric cornucopia. The tracks' consistency and their subtle depths are some of the elements that substantiate that the enthusiasm regarding Rohmann's first album 'Supershelter' was no hype. This is music for the long way ahead. Music that remains.