Stellar review of Dust in The 405 Magazine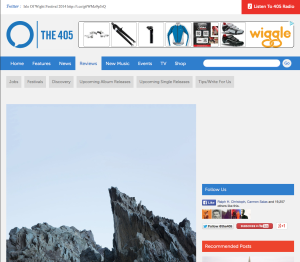 I'm flattered and deeply touched by the wonderful words that the dear people of The 405 Magazine found about Dust. But read for yourself. You can find the original article here.
***
On Dust, the newest LP from Berlin-based producer Till Rohmann, Glitterbug transcends the personal to evoke phantom cityscapes.
Electronic music has been increasingly interested in suggesting a sense of place, of late. Whether it's Forest Sword's incorporating The Wirral countryside on last year's excellent Engravings; or Emptyset constructing symphonies from dilapidated echoes in a ruined mansion on 2012's Medium; or the psychogeographical derives through spectral landscapes of The Stranger's Watching Dead Empires In Decay. In this weightless world of fleeting impressions and passing stimuli, we need something to tether sounds to.
Glitterbug's last album was a highly introspective and personal affair (2012's Cancerboy), giving an audio approximation of the producer's childhood battle with cancer. Since then, Rohmann has hooked up with Gold Panda (signing to his Notown Recordings label) – a move which finds the producer looking outward, setting forth to explore the world.
Dust was created, in part, as a response to Gold Panda's globe-trotting Half Of Where You Live. If that record was a sound diary of a busy year, touring the globe, sleeping on couches – the dance floor equivalent of busy streets and jet lag and culture clash and sensory overload – then Dust is its Twilight Zone counterpart. Those same streets, at 3:32 am, not a person in sight. This is TRANS-personal music, the sound of shadows and dust and phosphorescence and debris, as told by etheric synthdrones and dusted drum machines.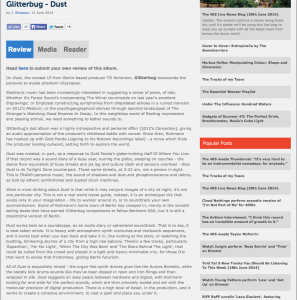 What is most striking about Dust is that while it may conjure images of a city at night, it's not one particular city. This is not a real world travel guide, instead, it is an archetypal city that exists only in your imagination – rife to wander around in, or to soundtrack your own somnambulism. Some of Rohmann's home town of Berlin has creeped in, mainly in the smooth sailing beats that have earned Glitterbug comparisons to fellow Berliners GAS, but it is still a dreamtime version of Berlin.
Dust works best as a soundscape, as an audio diary or ephemeral soundtrack. That is to say, it is best taken whole. It is heavy with atmospheric synth nocturnes and clockwork sequencers, and it works best when you lean back and take it in, like looking at the stars, or watching the bustling, blinkering skyline of a city from a high rise balcony. There's a few tracks, particularly 'Apparition', 'Far Far Light', 'When The City Was Bare' and 'The Stars Behind The Light', that could be culled from the crowd and placed in a light and trancy minimalist mix, for those DJs that want to evoke that frictionless, gliding Berlin futurism.
All of Dust is exquisitely mixed – the organ-like synth drones glow like the Aurora Borealis, while the stately kick drums sounds like they've been dipped in resin and iron filings and then wrapped in silk. Dust suggests an easy peace between hardware and digital, with Rohmann looking far and wide for the perfect sounds, which are then precisely tooled and set with the molecular precision of digital production. There is a high level of detail, in the production, and it works to create a cohesive environment, to cast a spell and place you under it.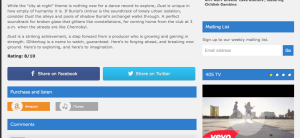 While the "city at night" theme is nothing new for a dance record to explore, Dust is unique in how empty of humanity it is. If Burial's Untrue is the soundtrack of lonely urban isolation, consider Dust the alleys and pools of shadow Burial's archangel walks through. A perfect soundtrack for broken glass that glitters like constellations, for coming home from the club at 3 a.m. when the streets are like Chernobyl.
Dust is a striking achievement, a step forward from a producer who is growing and gaining in strength. Glitterbug is a name to watch, guaranteed. Here's to forging ahead, and breaking new ground. Here's to exploring, and here's to imagination.
Rating: 8/10